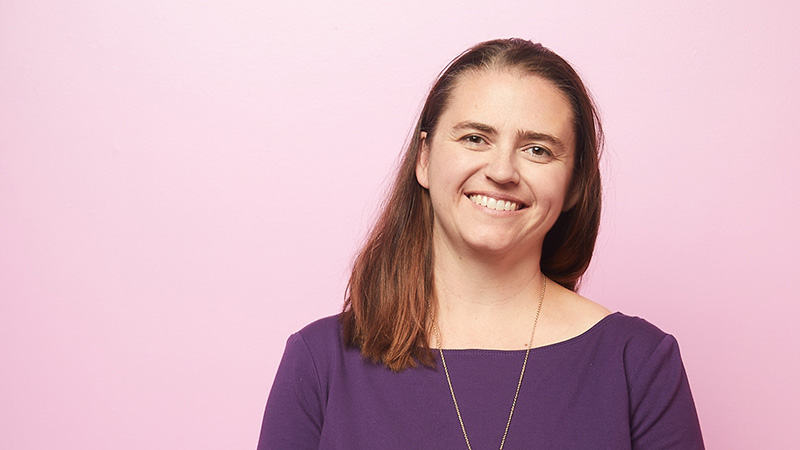 To the surprise of few of our readers, Electronic Arts and Maxis' life simulation series The Sims continues to be a powerhouse in the marketplace. It's a series with legions of fans across the globe. For many of those fans, it's their only connection to the video game world.
In 2022, The Sims has found itself facing a unique set of challenges. First, there was the back-and-forth on whether its wedding-themed expansion for The Sims 4 (called My Wedding Stories) would release in Russia. Maxis initially stated that the pack would not be released because of the country's homophobic laws banning "same-sex propaganda", then it reversed that stance. Then Russia invaded Ukraine, and EA stopped selling games in the country.
Maxis also announced that improved pronoun selection choices were coming to The Sims 4, thanks to the team's hard work at updating the game's almost decade-old infrastructure. The expanded pronoun options in The Sims 4 let players create Sims that embody a wider range of gender identities.
The developers of The Sims 4 aren't just facing the traditional challenges of game development, they're also facing unique ones that only emerge because of their unique design focus and passionate audience.
Lyndsay Pearson, vice president of creative at Maxis, joined us for a quick chat about what it's like to work on The Sims these days. Her role is in a bit of a hybrid position, working with both marketing and development to—in her words— "extend the specialness of The Sims into everything we touch."
The Sims players are "Simmers," not "gamers"

It's not just that people who play The Sims might only play The Sims, it's that they also are defined by intense enthusiasm and in-depth knowledge of the series' systems. Pearson takes great joy in that passion and says that it's in part because those players are able to curate their Sims experience to fit how they want to play.
"You can play The Sims as a regular game-y game," she observed, saying that plenty of players lean into the resource management element and meticulously plot out each hour of their Sim's day. But other players are experts at playing it as "an immersive soap opera" and create intricate stories using the games' social systems. 
Others don't even push "play" and let their Sims roam free. They just use The Sims to build houses or characters, using the game as a creative palette. "That flexibility and the fact that people can use it in so many ways is not only why it hits that [big] audience, but also keeps people coming back to it at different points in their lives," Pearson said. 
As many of our readers (and Game Developer editors) know, players regularly come back to The Sims to try playing it a different way, often after seeing what another Simmer is sharing on social media. 
Maxis' method for giving players more tools to fulfill those fantasies is the use of purchasable packs. You have the recent My Wedding Stories pack, you have furniture packs, and you even have branded packs like the Star Wars: Journey to Batuu pack from 2020. Pearson noted that pack in particular spoke to how Maxis does branded partnerships, where it's looking for "authentic" experiences that don't deviate from the core fantasy of The Sims.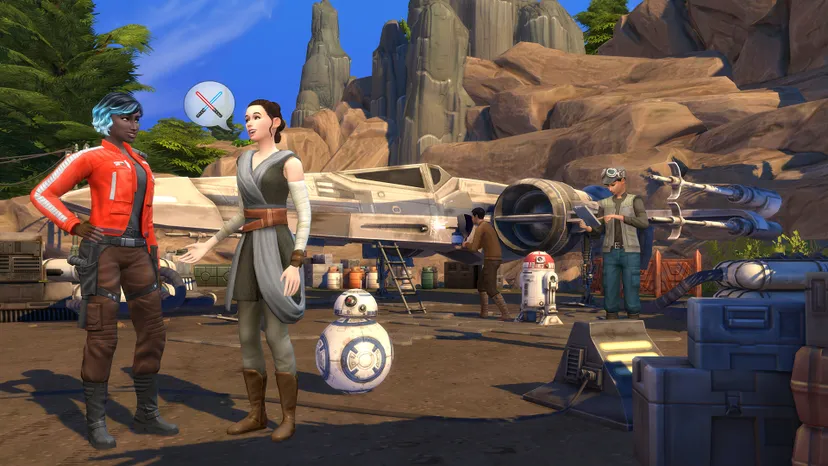 When Disney rolled out its Star Wars-themed Galaxy's Edge theme park in 2019, the original pitch was that park attendees could live out personal Star Wars-themed adventures. Costumes and trinkets purchased in the park could fit "in character," and there truly was something Sim-ish about its casual level of role-playing.
"That's in line with what The Sims is about, right?" Pearson said. "You're immersed in this world and immersed in a story. From that nugget, there was a really interesting chance for us to use [Star Wars] that feels in line with how this game works." She noted that it was a fantasy that didn't require a re-vamp of The Sims' gameplay. She explained that normally, Maxis does a lot of fashion, makeup, or product partnerships, and pursuing a story-themed pack gave them "a deeper level of integration."
How do you make new features or content for a Simmer audience? Pearson says that she and her colleagues spend a lot of time studying software and interfaces from non-video game worlds. They're looking at how clothing retailers are selling clothes online, how companies like Wayfair help users navigate their furniture catalogs, or how Pinterest makes updates to its user interface. 
"These kinds of approaches broaden our palette," she said. That process means that the team at Maxis is often building content on the back of different user behaviors. While other games drift toward adding looting and crafting, The Sims is being designed in a whole other direction.
Is The Sims a metaverse?
It used to be when you talked about brand crossovers in games, you were talking about product placement. Now it's a hot topic of "the metaverse." Though The Sims 4 isn't an always-online world, it is one of the foundational digital worlds that lets people merge real-life objects and environments with digital spaces. Very often in some tech bro's metaverse pitch, you'll find ideas that are already successful in The Sims.
"It's definitely interesting," Pearson said wryly. For her part, she doesn't think the metaverse will be "one singular thing." She argued that it would be a "convergence" of different forms of interactivity. As a developer who keeps an eye on real-world product partnerships, she says that a lot of games or software doing well in this space are ones that "aren't calling themselves metaverses yet." 
When asked about fantasies of the next level of human computing meant for The Sims, Pearson doubled back to some of her thinking behind Journey to Batuu. "What experience are we trying to give our players and our audiences?", she asked rhetorically. "What is the little connection point that makes sense with what the game is?"
Pearson and her colleagues do apparently have their eye on Sims games that may make use of updated computing technology (VR, AR, mobile, etc.), but none of it can enter production without content that players want. "I don't want to just slap a Sim game in VR and be like 'look, they're hanging out on a couch,'" she quipped. She says the team is starting to show interest in the fluidity of players moving between a touchscreen on a phone or streamed version of The Sims, and a version played on conventional hardware.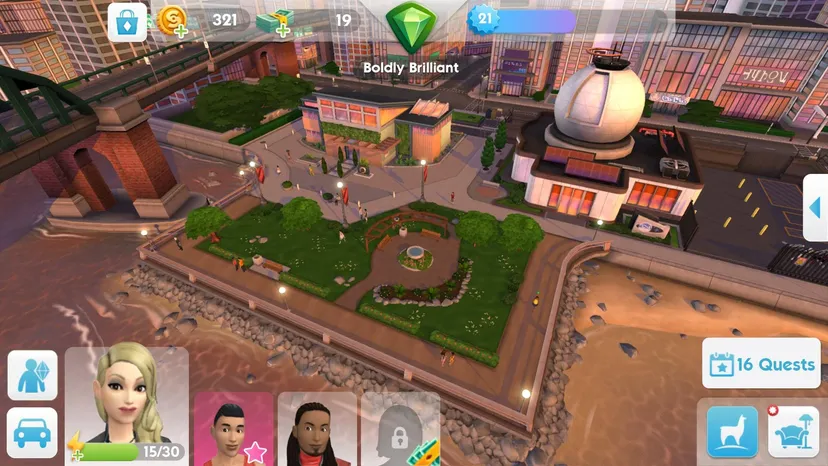 To make those versions of The Sims a reality, she says that the team would have to focus on making the UX be more flexible between mouse/keyboard and touch controls.
Pearson shared that while most Sims players are on PC, there's a growing group who are "adding" playing The Sims on their phone to their routines. Players might play both The Sims 4 and The Sims Mobile. "We know younger audiences are tending toward their phones, which means they will grow into audiences who will probably still 'multiscreen,' she said. Meaning that more Sims players in the future will likely have their phones on while interacting with the game on PC or console.
Doing right by LGBTQ Simmers
Pearson and her colleagues have faced two major challenges in developing The Sims in the last year. First, there was the release of The Sims 4: My Wedding Stories. My Wedding Stories is a wedding-themed expansion pack that also provides systems for marrying Sims of the same gender.
Maxis found itself in a strange back-and-forth while trying to determine how the game could be released in a country like Russia, which bans "same-sex propaganda."  At first, Maxis said the pack would not launch in Russia. Then it reversed course and said it would. Then Russia invaded Ukraine and EA stopped selling games in the region. "Our goal is always to get our game in its entirety to as many people as we possibly can," Pearson said when asked to recall that dust-up. "We weren't willing to say [to Russian players] 'hey, you get this special changed edition.' That just didn't feel right."
Pearson said that Maxis found some options that were "initially off the table" to support the game's launch in Russia. She avoided sharing specifics on those options. Before EA announced that it would be reversing course on this topic, The Sims community found itself in some internal turmoil over the decision.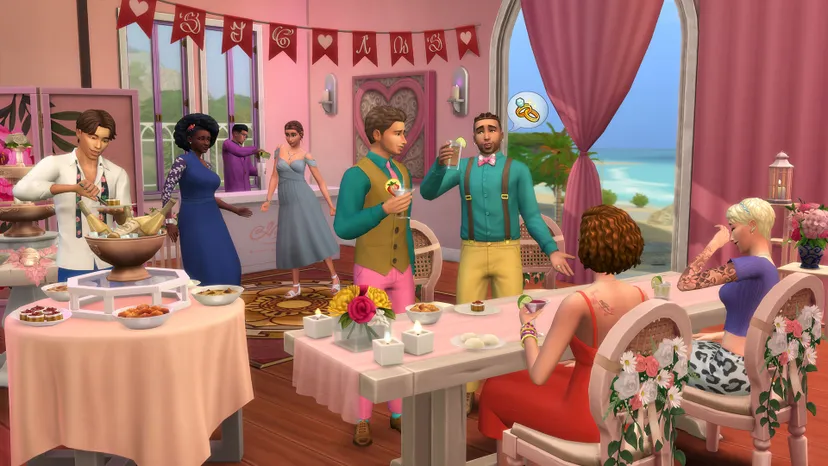 As Vice's Gita Jackson noted back in February, EA's obliqueness about why My Wedding Stories wouldn't get a Russian release left an information vacuum for players to fill in. Some Russian organizations told Jackson that EA's decision not to release the pack felt like the company was willingly complying with an unjust law.
Pearson described that back-and-forth decision as just a situation where Maxis had to be "nimble and flexible" and also be "willing to take a couple punches." "You can't always be on top of everything. Our approach has always been to try and be very honest and say 'yeah, this isn't exactly the way we wanted it to go.'"
That strategy with transparency resurfaced when Maxis revealed that would be implementing expanded pronoun options in the game. Pulling that off meant wrangling with nearly decade-old tech, and Pearson and her colleagues were upfront at the time that it wouldn't be a perfectly implemented system. Even though there was a lot of tech debt to be paid in this process, she said the team remained enthusiastic about taking it on.
"At the time, we made this choice, and now we know better and wanted to make a different choice," she said. She noted that when Maxis starts any Sims game, it has to make difficult choices about what questions its future developers will be faced with answering. Earlier in The Sims 4's lifespan, she recalled having conversations about the game's population cap. 
"We had this spreadsheet that was like 'hey, if we hit this number, the game will explode,'" she recalled. The Sims 4's population cap has tripled since then, because Pearson said that the team was able to start asking "the right questions."
If solving a given development problem is worthwhile for players, then it's worth solving, decade-old tech debt be damned. For The Sims 4, building more inclusivity options (even if those options crash into how the game was constructed) was a worthwhile challenge.
It worked out well for Pearson and her colleagues at Maxis, and it might work out well for you too.