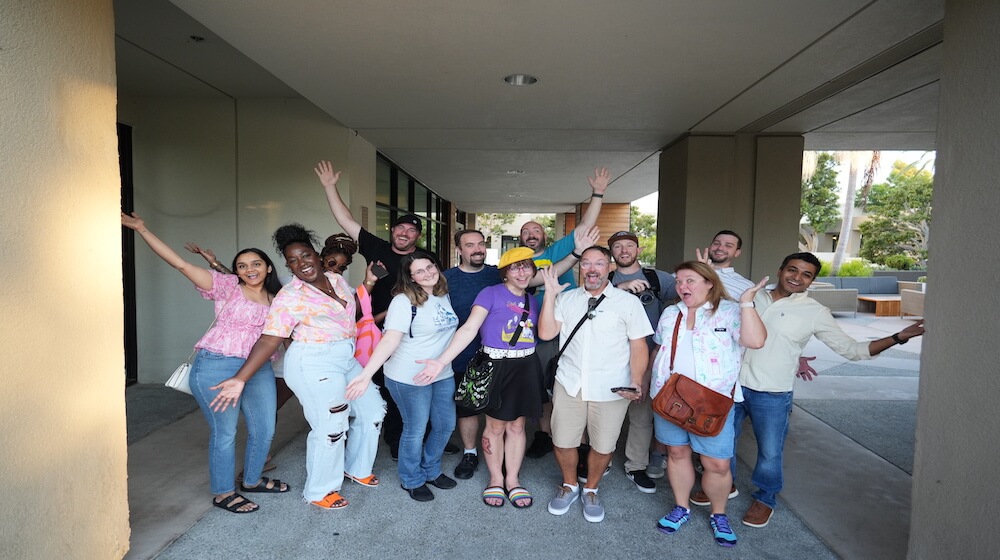 After two years of hiatus, in-person WordCamps have returned, and September 9-11 is WordCamp US 2022. This WordCamp US (WCUS) is also being livestreamed. If you miss it, you can catch up on the sessions when they are posted on WordCamp TV.
In this post we will be recapping the event as it happens. Stay tuned for updates!
We came in from around the world for #WCUS2022 and are so excited to learn & build! 🥳

How are you getting to #WCUS #SanDiego? Let's share pics in this thread! ✈️ 🚘
—
👋: @wpmodder @nealey @courtneyr_dev @GoGinaMarie @marcusdburnette @sunsanddesign @ChrisEdwardsCE pic.twitter.com/SM515f8vsc

— GoDaddy Pro (@GoDaddyPro) September 7, 2022
What is WordCamp and what are the benefits?
WordCamp is a meetup event for people interested in all things WordPress. Creators and innovators from all industries and backgrounds can collectively gather and share ideas that make WordPress's open source software a much better tool for all to enjoy (aka the WordPress open source project).
Whether you're setting up your first portfolio website as a freelance writer or developing a new widget as a seasoned coder, WordCamp is the place to learn and discover new opportunities through things like:
Networking opportunities
Workshops
Discussion panels
Q&A sessions
You can also expect other fun benefits like free swag, cool prizes and after-hour parties as an extra bonus for attending.
How WordCamp US differs from a typical convention
At WordCamp, you won't find endless rows of vendors focused on selling their products.
Instead, you'll find unofficial gatherings in the hallways between sessions — known as hallway tracks — where people network with one another to dish out their favorite trade secrets and chat about key happenings within their industries. While there is an active sponsors area, these brands are focused on relationship building and being part of the WordPress community.
Learning from WordPress contributors
One of the biggest ways WordCamp empowers attendees is through Contributor Day. This is where WordPress users are gathered into different teams across the platform to discuss all the ways they contribute to the overall project. It's also a great opportunity for people to ask questions and meet new faces from different industries.
Anyone can sign up to be a contributor and is encouraged to do so — no matter your skill level or background.
Taking WordCamp US 2022 to San Diego
This year, WCUS headed to San Diego, California to celebrate the three-day events at the Town and Country Resort. Here, guests basked in the warm weather, took in all the sights from local beaches and chowed down on some of the best Mexican food in the nation.
One of the highlights from this year's trip included a yacht party, hosted by Pagely, that set sail on the San Diego bay at night. Guests sipped on cocktails, dined on local cuisine, and danced the night away — all while taking in the picturesque skyline and marina views that the city has to offer.
Meet the GoDaddy team on the ground
As a proud supporter of the WordPress community, the GoDaddy team was eager to join in on the action with over 40 representatives from various brands within the company. Here are some of the notable faces you might have recognized from this year's events:
Adam Warner – Director of Field Marketing for GoDaddy
Courtney Robertson -Web Designer & Developer Advocate for GoDaddy Pro
Marcus Burnette – WooCommerce Specialist for GoDaddy Pro
Sandy Edwards – Senior Marketing Manager for GoDaddy
Evan Weiner – Global Director & Head of Social Marketing for GoDaddy
… and dozens more from four GoDaddy brands on the ground, including our WordPress contributors and folks working on our WordPress offerings.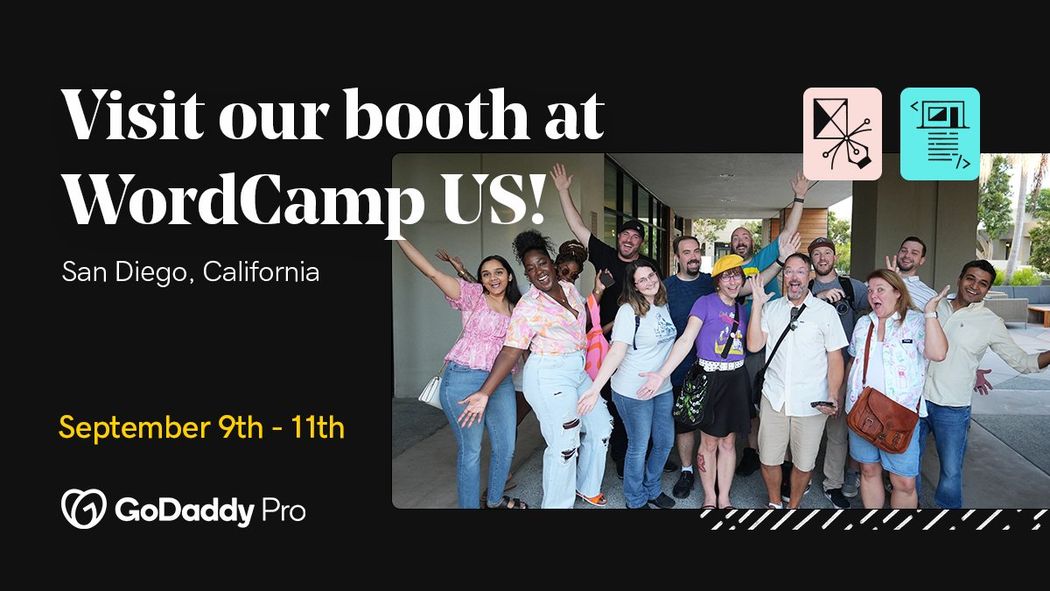 WordCamp US 2022 event recap
Looking for a breakdown of this year's events? Check out the stats below.
Attendance: This year's sold-out event was capped to 650 tickets and was a more intimate atmosphere compared to the thousands of tickets sold in prior years.
Contributors: TBD after Contributor Day on September 11, 2022.
Speakers: There are over 40 speakers, including a few from GoDaddy! You can find the full list of speakers and schedule posted on the WCUS 2022 website.
Brands: There are 13 media partners and 34 sponsors including GoDaddy Pro and GoDaddy family brands, Pagely and Sucuri.
Workshops: In addition to lightning sessions (15 min) and regular sessions, there are a number of workshops where attendees can follow along. Here's a few linked from the schedule:
We look forward to seeing attendees! Stay tuned for our recap of Day 1.