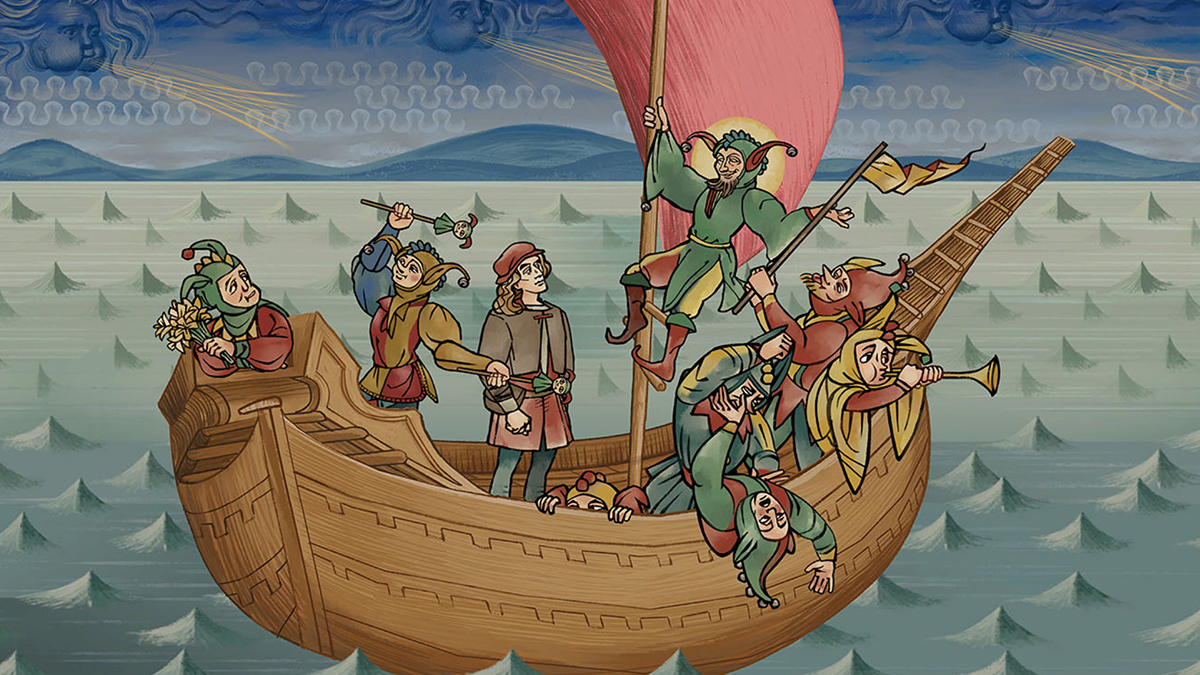 The next game from Fallout: New Vegas and Pillars of Eternity developer Obsidian is something of a departure for the Microsoft-owned studio.
Pentiment, a 16th century murder mystery that looks like a tapestry brought to life, might feature Obsidian staples like a whip-smart, darkly comedic narrative and memorable supporting cast, but it also ditches the idea of letting players start out as a blank slate before slowly coming into their own.
This time around there is a fixed protagonist — a journeyman artist by the name of Andreas Malerand — and while players will be allowed to fill in some blanks in the form of background details (are you a craftsman, bookworm, or maybe even a hedonist?), players are being asked to inhabit a role rather than shape it.
Obsidian also chose to break the mould in other ways. Unlike some of the studio's previous efforts, Pentiment has been created by a small team of just 13 developers, who've been working on the project for two and a half years. It was a fact that took us by surprise after taking the title for a spin at Gamescom 2022, with the game — due out on November 15, 2022 — shining under a layer of polish that seems to defy its modest background.
Speaking to us in Cologne about weaving together the captivating conspiracy, Pentiment game director Josh Sawyer and creative director Hannah Kennedy said they wanted to place the emphasis on the journey, not the destination.
Putting the 'feud' in Feudal
"We wanted players to feel unsettled. We wanted them to feel inspired," says Kennedy, explaining that Pentiment has been designed to be a slow-burning RPG that offers emotional intrigue, as opposed to a blockbuster that bombards them with huge, sweeping choices and Hollywood crescendos.
As we mentioned earlier, Pentiment will plant you in the shoes of a pre-existing character. Obsidian wants players become embedded within a community that feels real, and according to Sawyer the "high-level idea" when fleshing out the narrative was to start building a supporting cast of over 200 characters that felt human — warts and all. 
"When it comes to the individual character interactions, it's more about their specific personalities and backgrounds," adds Sawyer, explaining how the team knitted together its virtual coterie. "So we started thinking about some of the different interactions we could have between these groups, looking at how they would work based on the friction points between them — the rivalries and petty little feuds."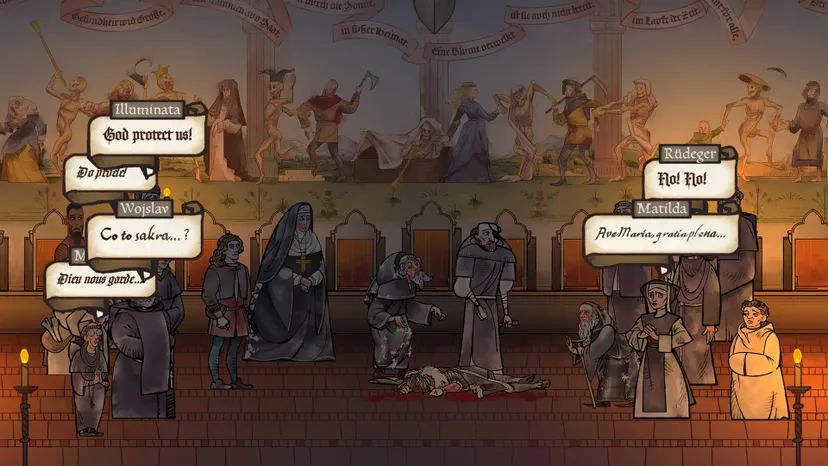 Although players are solving a murder and unravelling a conspiracy — which, if we're being honest, feels like a pretty notable undertaking — it's the experiences they have, and the stories they hear, as they begin mingling with the townsfolk that Sawyer and Kennedy hope will leave the biggest impression when the credits have rolled.
"I'm not saying this to dunk on mystery games," says Sawyer, "but I don't like the idea of a game where all you're doing is focusing on finding the one 'true' answer. I liked that there could be ambiguity — so what if you never truly find out who the killer is? You either just make your best guess, or perhaps you're like 'I hate this guy' so I'm going to point the finger at them.
"When you turn someone in, it's not the end of the story. That character is gone, and so the people in their family or those who had a social relationship with them are going to be upset. Some people will think it's good you got rid of them and certain elements of the story will change. I figured it would be interesting to [follow that thread], and so from there I started thinking about other stories we could tell that would have a more minor impact on our cast during the 25 years in which the game takes place."
A little goes a long way
It's interesting to hear Sawyer talk about letting players cause smaller narrative ripples over the course of decades. Some RPGs choose to hit players with life-or-death choices that can affect entire civilisations, but in Pentiment the priority is on emphasising those minute narrative moments.
"The story is the point. The story is the gameplay. Pentiment has been a challenge because we have a very limited number of gameplay actions that players can engage with. It's mostly reading the story, reacting to the story, and a little bit of navigation and some mini-games," explains Kennedy.
"Knowing we were limited in those areas, we focused on creating lots of smaller story moments, either through expanding our tertiary character tasks or by trying to instil spaces in the game with fun little stories or visual storytelling elements."
Kennedy says that it's easy when designing RPGs to become obsessed with the overarching narrative and the importance of making sure it's branching in the biggest, most impactful way. She feels storytellers can become fixated on delivering a sense of "grand scope" to their detriment, because ultimately real-life is built on those small moments of intimacy and mundanity.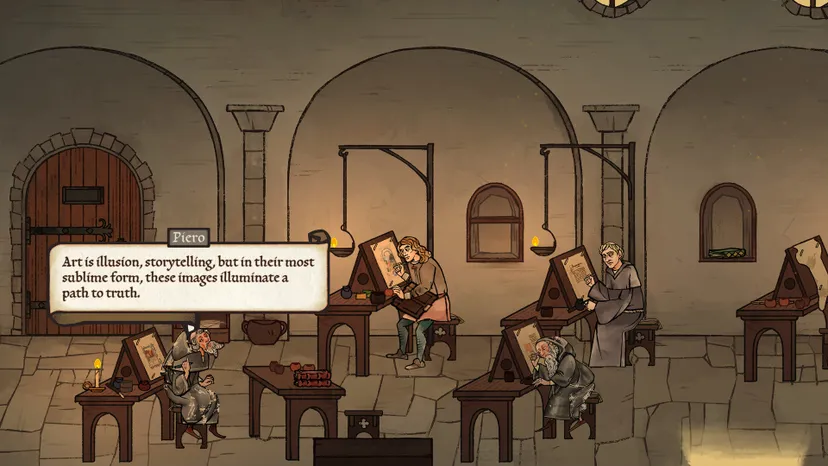 "We've noticed that a lot of people have found huge value in those micro-storytelling moments, and it's huge because that's a really big part of the experience — but I feel like in development they can often be an afterthought."
For instance, Sawyer explains there's one moment in the first act where players can choose to tell a story to a child who's rather brazenly woken them up in the middle of the night. Players can either them a story about an infant who harassed an artist, or regale them with a fantastical tale about some of their own personal adventures. That seemingly trivial interaction will have an impact on how that child views storytelling in the future, causing a small but notable ripple that follows players through time.
Pentiment will, of course, also include scenes designed to thrill — although I'll avoid detailing them here to avoid spoilers — but for Sawyer and Kennedy, if you want to create a narrative that feels personal and substantial, you need to balance that bombast with a sprinkling of honest banality.